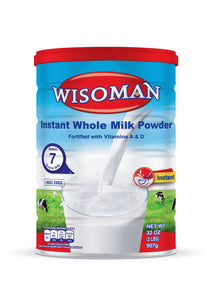 Introducing our premium Instant Whole Milk Powder, the perfect solution for all your dairy needs! Whether you're a busy professional, a health-conscious individual, or a passionate baker, our Instant Whole Milk Powder is here to revolutionize your kitchen experience.
With our Instant Whole Milk Powder, you can enjoy the goodness of milk anytime, anywhere. It offers the convenience of long shelf life and easy storage, making it an ideal choice for those who want a reliable dairy alternative on hand. 
Our Dry Milk Powder is crafted from the finest quality milk, ensuring that you receive the same creamy and nutritious goodness as fresh milk. It dissolves instantly, packed with essential nutrients like calcium, protein, and vitamins, our Whole Milk Powder is a wholesome choice for your daily intake.