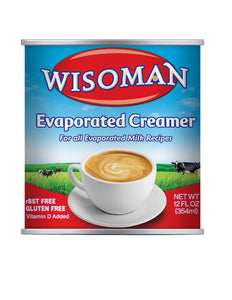 Introducing the Creamy Elegance Evaporated Creamer – Elevate Your Coffee Experience!
Are you tired of settling for ordinary coffee? Are you looking to take your coffee to the next level? Look no further! Our Evaporated Creamer is the perfect solution to transform your daily brew into a gourmet coffee experience.
With unparalleled creaminess, Wisoman Evaporated Creamer is specially crafted to deliver an exceptionally rich and creamy texture. It blends seamlessly with your coffee, enhancing its flavor and providing a silky-smooth mouthfeel that you won't find with regular milk or other creamers.
Our evaporated creamer isn't just for coffee. It's a versatile addition to your kitchen, perfect for enriching your tea, hot chocolate, desserts, and savory recipes. Elevate your culinary creations with the touch of creaminess that only our Evaporated Creamer can provide.